Business Intelligence Architecture is a set of interrelated components that provide the framework for the successful implementation of a repository of business information. The architecture serves as the baseline from which the infrastructure is developed. Technology, organizational structures, policies, and procedures are developed to support the components of the architecture. The components represent those functions which must be implemented to ensure that the Information Warehouse can be developed, maintained, and operated in an efficient and effective manner.
The Business Intelligence Architecture is developed with the following principles in mind:
Data Integrity
Data Stability
Information Flexibility
Scalability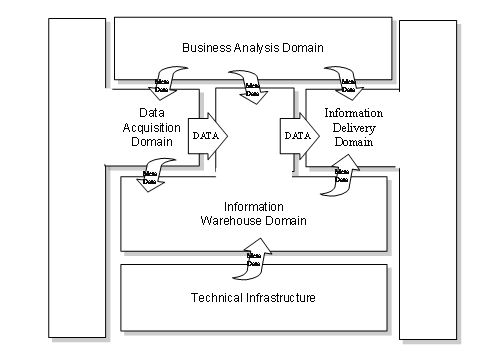 The components of the architecture are grouped into domains to illustrate the context of the Information Warehouse, its components, and its relationship to the business decision support and analytical processes. The five domains of the Business Intelligence Architecture are:
Data is the raw material used by the Information Warehouse "Factory" to produce information. Metadata (data about data) is the blueprint used by the factory to process the data.